TUST Held Opening Ceremonies to Welcome New Cohort

2022-09-23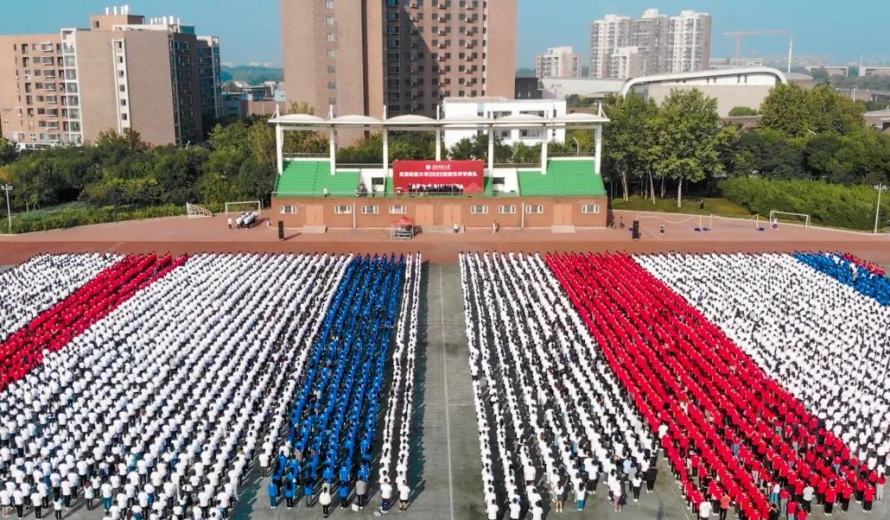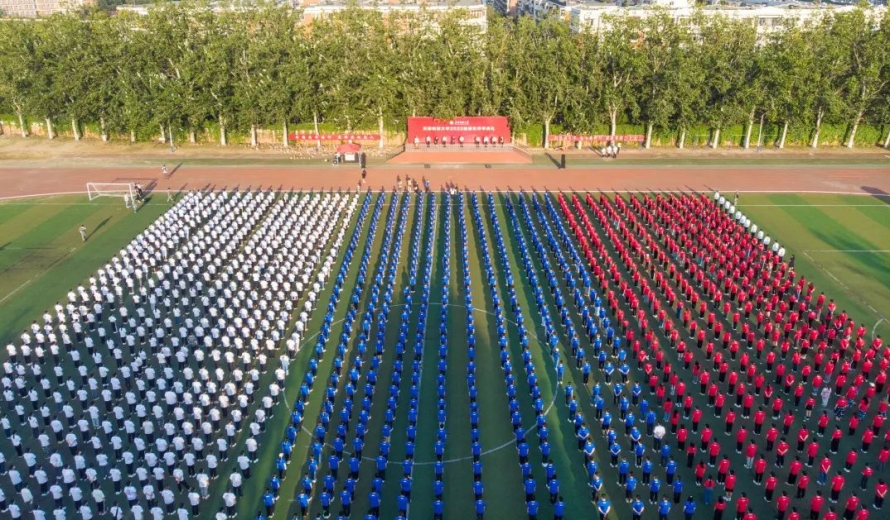 TUST held opening ceremonies at Binhai Campus and Hexi Campus respectively to welcome the new students. 5480 undergraduates and 1966 graduates for master or Ph. D degree programs joined TUST family to start their new journey of life.
TUST Council Chair Han Jinyu, President Lu Fuping, Vice Chair An Yujian, Vice Chair Feng Cuiling, Vice President Cheng Bowen, Head of Discipline Inspection and Supervision Xing Jun, leaders of colleges and offices, teacher representatives, veterian student representatives, freshmen and their tutors attended the convocation. An Yujian and Cheng Bowen hosted the ceremonies.

All attendees sang the national anthem in a full-throated chorus as the flag climbed up the post before flapping in the wind.
President Lu Fuping delivered a keynote speech at the opening ceremony, in which he expressed his welcome, congratulations and four sincere hopes and expectations for the new students.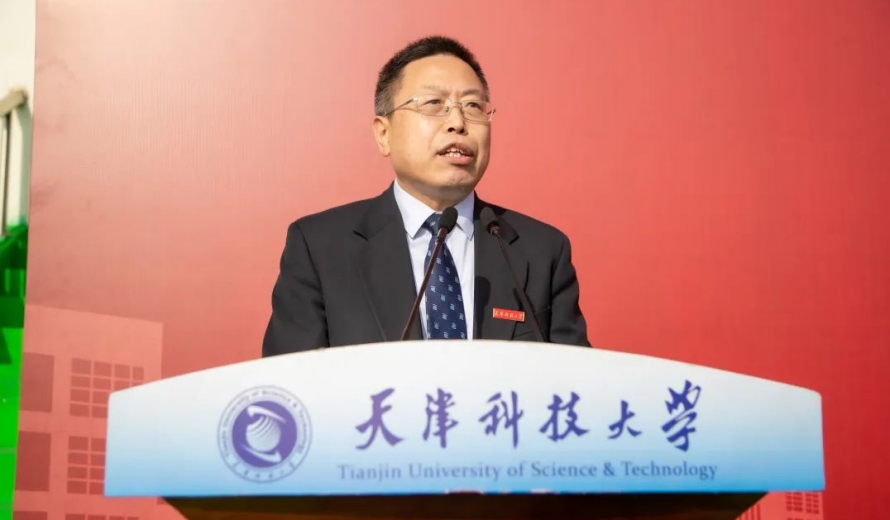 "Firstly, to be a new youth, one must be patriotic and with a global vision. To be a new youth, one must bear in mind the hope of President Xi Jinping "Only those aim high would scale the heights and look afar, and only those with a global vision would achieve great success", actively integrate his or her ambitions with the cause of the Party and the People, write stirring chapters of declaring the commitment of making due contribution to building a strong country with sincere feelings of "my pure love is only for China". Secondly, to be a new youth, one must be brave and constantly enhance his or her horizon. The process of building a strong country of science and technology and pursuit of high level science and technology independence provides a broad platform of innovation and starting one's own business for the new youths. The students are encouraged to be lonely warriors with their innovation spirit and courage to realize their value of life in creation and innovation. Thirdly, to be a new youth, one must be pragmatic and learn the skills needed to take on important responsibilities. Only with real ability, can one settle down and get on with his or her pursuits. It is hoped that students could better teach themselves, cherish every opportunity for learning and improving themselves, work hard with other hard workers and outstanding people to become better ones. Fourthly, to be a new youth, one must improve moral cultivation to remain honest and self-disciplined. Virtue is the foundation of a human being. It is hoped that the students could improve moral cultivation through the Chinese traditional culture, revolutionary culture and the advanced culture of socialism in the pursuit of better life. " President Lu highlighted.
The president affectionately said the future and hope belonged to the young people. He hoped that the students could stick to the university motto of "uphold virtue, academics and practice, love motherland, university and people", strive and forge ahead bravely, achieve the best results in their respective life tracks, and lead a different and wonderful life in the great practice of realizing the Chinese Dream.
Professor Sun Zhenqing, outstanding teacher of Tianjin, Specially-appointed professor by Tianjin Municipal Government and director of Carbon Neutrality Research Institute, and Professor Qu Zhigang, Young and Middle-aged Leading Science and Technology Innovation Leading Talent of Tianjin, Specially-appointed professor and young expert by Tianjin Municipal Government and Dean of College of Electronic Information and Automation, gave their speeches as professor representatives. They encouraged the students to adhere to the unity of knowledge and practice, seek the truth in practice, gain new abilities through overcoming difficulties, live a clean life, do things carefully, cherish every day of college life, seize every moment, write beautiful poems in life through hard work and intelligence, shoulder the responsibility of the times of young Chinese, to be the pioneers and devoters who walk in the forefront of the times. They hoped that the students could live up to parents' expectations, teachers' teachings, their prime youth and the great times.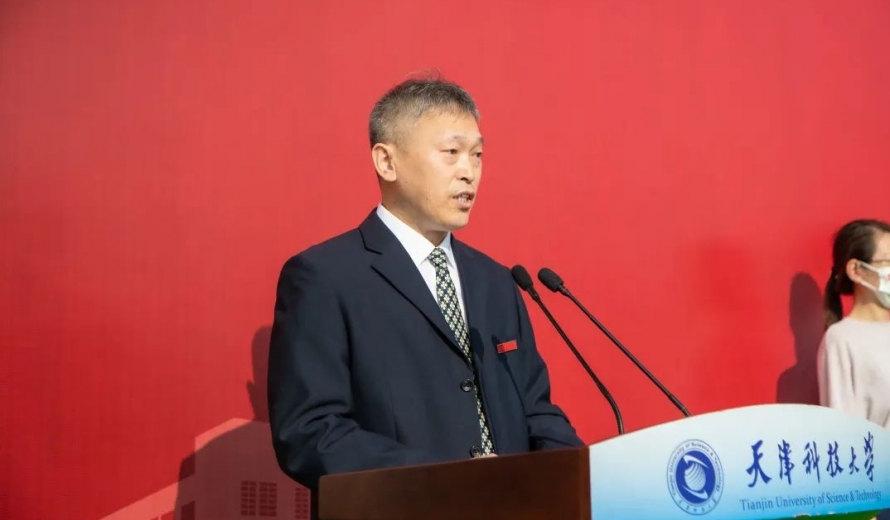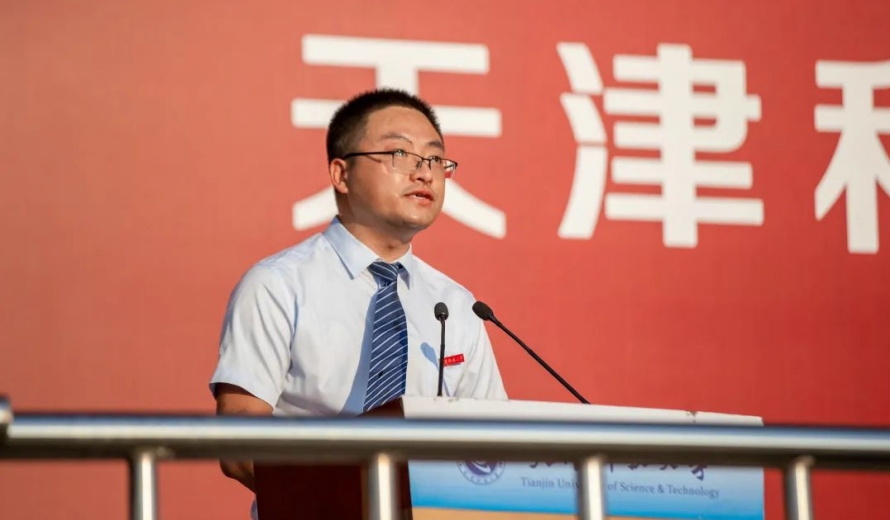 On behalf of all the elder students of TUST, Wang Huiting, a candidate for master degree of Grade 2021 from College of Food Science and Engineering, Wang Ziyao, an undergraduate of Grade 2019 from College of Artistic Design, extended their warm welcome to the freshmen. They shared their experiences of campus life and learning. They encouraged the freshmen to be diligent, practical, positive and confident. They said that one should remain true to the original aspiration and shoulder responsibilities without hesitation.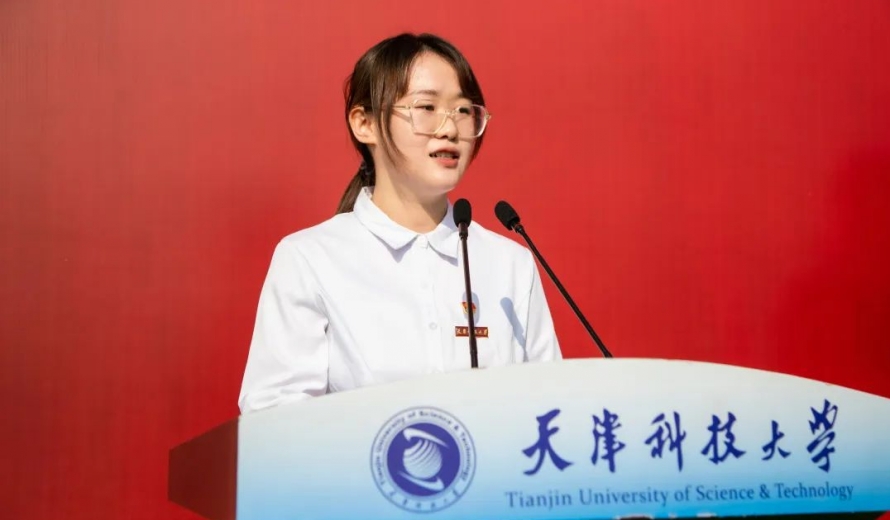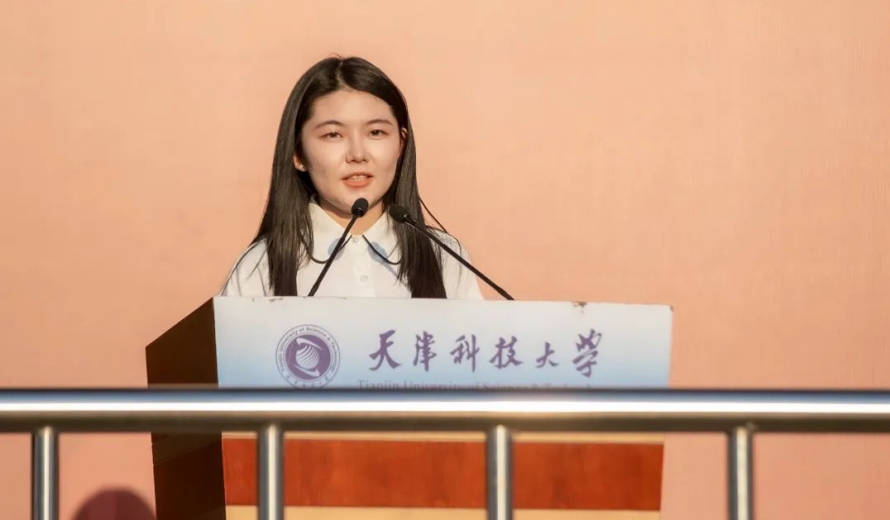 On behalf of the freshmen, Zhan Gaoxiang, an English major in College of Foreign Languages, and Zhao Hongpi, a freshman from the Experiment Class of Intelligent Science and Advanced Manufacturing, promised to keep President Xi Jinping's hope " be patriotic, motivated, practical and seeking the truth" firmly in mind, adhere to TUST motto, keep lofty aspirations, devote to the great cause of TUST, stick to ideals and beliefs, cultivate the ability to make contributions to the new era, and make their youth a valuable time.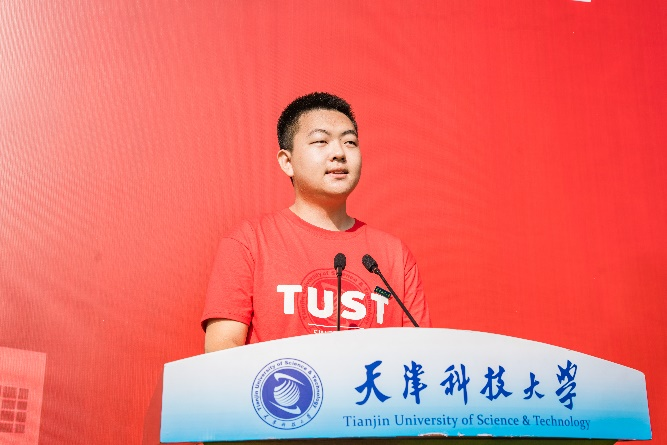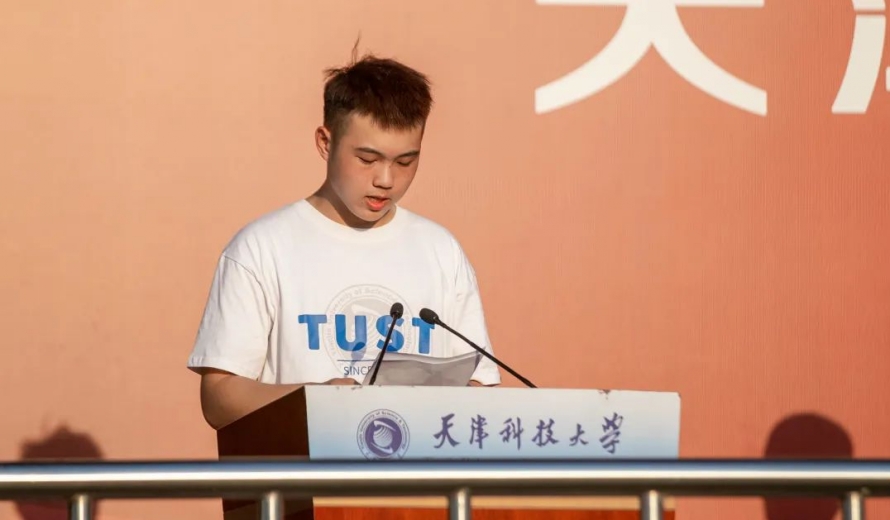 On behalf of the freshmen, Gao Yifan, a Ph. D candidate of Grade 2022 from College of Chemical Engineering and Materials Science, and Zhang Wenshuo, a master candidate of Grade 2022 from College of Electronic Information and Automation, expressed their gratitude for the unviersity's warm welcome. They declared that they would bravely shoulder the mission entrusted by the times, feel undaunted by challenges, work hard all the way to the end, make full use of the knowledge, bravely stand at the forefront of serving China through science and technology, overcome difficulties, and forge ahead bravely to fulfil the oath of making due contribution to building a strong country.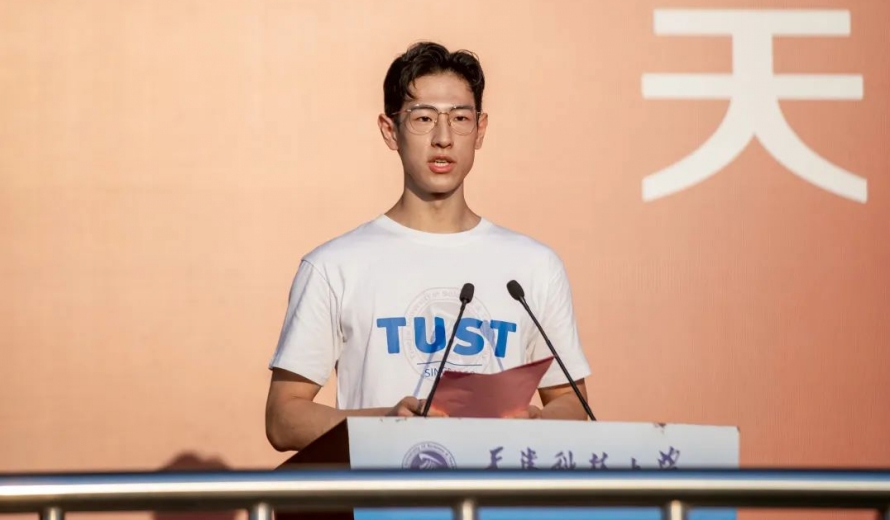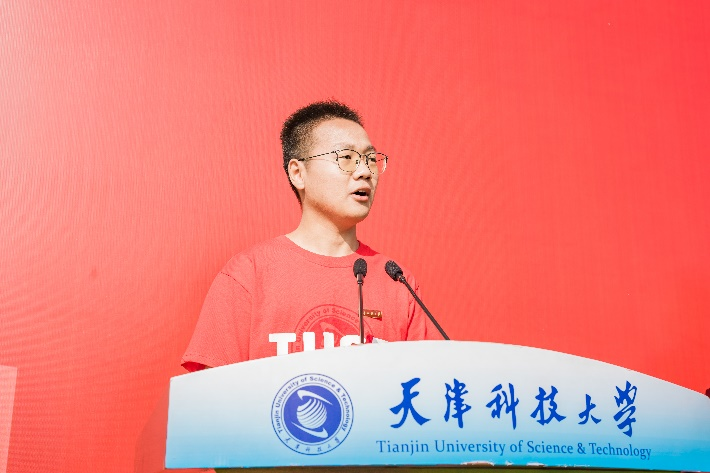 Accompanied by melodious and gentle music, the university leaders and teacher representatives helped the freshmen representatives were TUST badges. All the attendees sang TUST anthem together. The opening ceremony ended in the majestic and heroic TUST anthem .