TUST Showcased its Achievements at the 58th and 59th China Higher Education Expo

2023-04-18
On the morning of April 8th, 2023, the 58th and 59th China Higher Education Expo with the theme of "Seeking High-quality Development by Integrating Universities, Local governments and Industry" was launched at the Chongqing International Expo Center. Over 1,000 experts and scholars from across the country, as well as more than 1,500 universities and tens of thousands of companies, gathered together to seek common development. 110 universities from 28 municipalities,provinces and autonomous regions showcased their education and teaching achievements and scientific research transformation projects to the whole country in the higher education exhibition area. TUST is the only invited university from Tianjin. President Lu Fuping addressed the opening ceremony with a keynote speech titled "Deepening the Reform of the Full-Credit System to BoostProvincial Universities High-Quality Undergraduate Education" at the Presidents' Forum.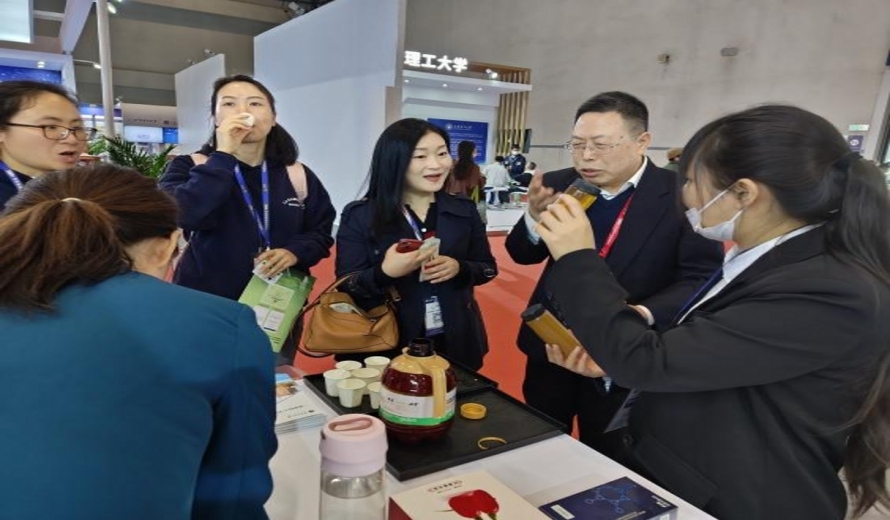 TUST's booth received high attention from education and businessexperts and scholarsfor light industry fermentation and biopharmaceutical products, including craft beer, organic Chinese wolfberry material, chitosan tablets, and biopolymer hydrogel. Biopharmaceutical Modern Industry College, which was built with the support of national key disciplines and first-class majors, received wide praise from attendees at the event.
The award-winning projects of TUST in the 8th China International "Internet Plus" College Students Innovation and Entrepreneurship Competition have also been well-received during the exhibition, reflecting the remarkable achievements of TUST's talent cultivation model combining teaching, research and innovation.
During the exhibition, Mr. Sun Zhiliang, Deputy Secretary of the Tianjin Municipal Party Committee Education Work Committee, and his team visited TUST's booth to learn about the progress in credit system reform, innovation and entrepreneurship of college students, and integration of industry and education. They highly praised TUST's achievements on display.