2018 BRICS Think Tank International Symposium and the 23rd Wanshou Forum is Held in TUST

2018-10-11
Scientific and technological innovation, as a key driver and content of new industrial revolution, has always received high attention from BRICS and other developing countries. During their meeting in Johannesburg in July, 2018, BRICS leaders reached important consensus on building a partnership among BRICS in the new industrial revolution. In order to carry out the consensus and push for further thoughts of and research in the important issue among BRICS scholars, 2018 BRICS Think Tank International Symposium and the 23rd Wanshou Forum was held in Tianjin University of Science & Technology (hereinafter referred to as "the University") on September 21-22. The meeting was hosted by China Council for the BRICS Think Tank Cooperation (CCBTC), with the theme "BRICS Partnership on New Industrial Revolution and Scientific and Technological Innovation". The meeting coincided with the 60th anniversary of the University.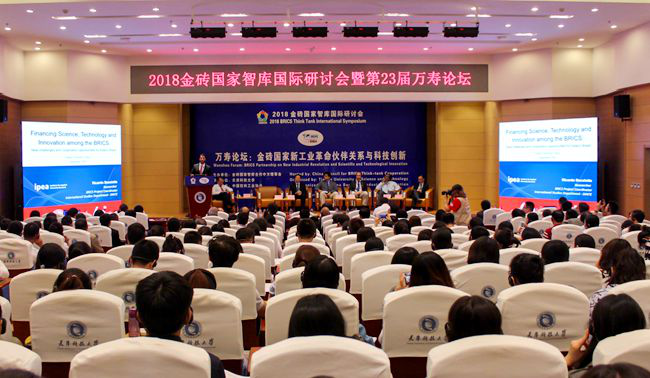 The two-day meeting brought together think tank scholars from Brazil, Russia, India, South Africa, and other BRICS countries, and Malaysia, Sri Lanka, Vietnam, Thailand, and other developing countries. They exchanged ideas with other think tank scholars, and representatives of enterprises and public institutions at home, and teachers and students of the University. Guests attending the opening ceremony and delivering speeches included: Luan Jianzhang, Director of the Research Office of International Department of the Central Committee of CPC and Secretary General of CCBTC, Zhang Zhicheng, Director of the Protection and Coordination Department of National Intellectual Property Administration, Zhao Xinli, Grade-II researcher of the Ministry of Science and Technology and an academician of International Eurasian Academy of Sciences, Jiang Guanxiong, Deputy Director of the Center for International Economic and Technological Cooperation of the Ministry of Industry and Information Technology, Han Jinyu, President of the University, and other Chinese guests. Lu Fuping, Vice President of the University, presided over the opening ceremony.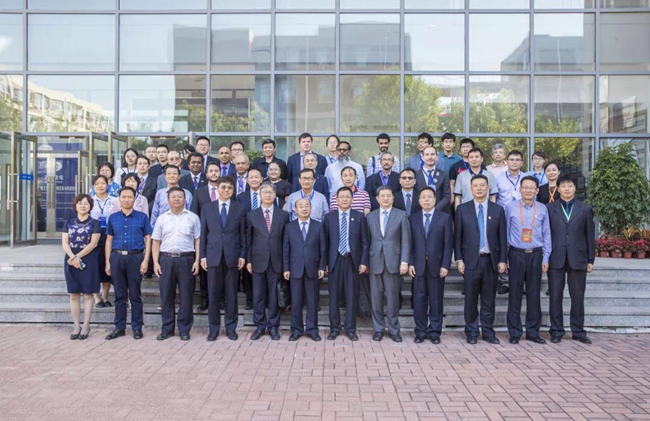 Luan Jianzhang pointed out that Wanshou Forum is a platform for international communication and is committed to serving BRICS and South-South exchanges and cooperation. Hosted at the platform of Wanshou Forum, the BRICS International Symposium showed Chinese people's aspiration for health and longevity, their heartfelt wishes for enduring world peace and development, as well as firm confidence in the exuberant vitality of BRICS and South-South cooperation. He believed that opportunities of the new industrial revolution are essential to the sustainable development of BRICS. For BRICS cooperation, there are huge new growth drivers to tap into, which should and would grow into the fourth pillar underpinning BRICS cooperation after "political security cooperation", "economic cooperation" and "cultural cooperation". To build a partnership of new industrial revolution,: First, BRICS should have initiative and confidence. Initiative means that they should realize the importance of BRICS cooperation. For BRICS to usher in the second "golden 10 years", the key is to catch up with the pace of new industrial revolution, which means deepening cooperation. Second, BRICS should be confident that they can shape a partnership of new industrial revolution with other developing countries, so as to contribute more to the great cause of mankind's peace and development. Third, BRICS should be open-minded and inclusive. Integrated development is a feature of the fourth industrial revolution. While continuing to deepen cooperation, BRICS should also be committed to "BRICS+" and enhance practical cooperation with other developing countries with an open and inclusive mind. Fourth, they should have intelligence and make joint efforts. They should engage in think tank research to pave a road for the efforts of building a partnership of new industrial revolution among countries. As such, academic circle of BRICS should intensify cooperation and join hands in the research of major issues, in a way to co-shape a community of shared future for BRICS think tank.   
  Jiang Guanxiong pointed out that, new industrial revolution, featuring digitization, networked development and intellectualization, is triggering in-depth revolution of global manufacturing industry. Amid the backdrop of ever-fiercer unilateralism and trade protectionism, a partnership of new industrial revolution will accelerate the pace of industrial transformation in BRICS, and help them to co-tackle external risks and expand development space. BRICS think tank serves as an important power to build a partnership of new industrial revolution for BRICS. Therefore, enhancing BRICS think tank cooperation will enrich the connotation of BRICS strategic relationship and facilitate policy coordination among BRICS. Zhao Xinli said that BRICS should renew their efforts in overall coordination, strengthen cooperation, integrate national development strategies, establish technology transfer platform, leverage on the role of regional powers as pacesetter, and deepen think tank cooperation. Zhang Zhicheng said that, China will deepen IP cooperation with other BRICS members, and make unremitting efforts to serve innovation players of these countries. China is also willing to safeguard multi-lateral trade regime with other BRICS members and even the whole international community, and to co-build an inclusive, balanced, effective international IP system. 

Han Jinyu extended welcome to experts and scholars on behalf of the whole University He said that BRICS represent the most prospecting countries in the world, and in recent years, BRICS are reaching consensus and passing positive energy to the world through diverse cooperation and exchanges. "Technology", the theme of this year's forum, matches perfectly with the University. The University will go all out to ensure the forum a great success. We are confident that the true input of guests will inspire new, exciting ideas in the campus.
  Lu Fuping said that BRICS Think Tank International Symposium, as a platform and mechanism of emerging countries in regional cooperation, is enjoying ever-enhancing global influence. The holding of this year's session in the University will surely enhance exchanges and communication between the University and other countries. Taking this opportunity, we will further push for scientific research, think tank building and other work, so as to improve the scholarship and international visibility of the University.  
  At the meeting, representatives shared new practice and experience of their countries in scientific and technological innovation, and exchanged views on specific technical problems. All attendees agreed that the fourth industrial revolution is spawning new forms of economy, advancing industrial transformation and upgrading, and affecting traditional lifestyle of mankind in a profound manner. For BRICS and other developing countries, the fourth industrial revolution is a development opportunity once in a lifetime. Therefore, they should deepen practical cooperation, and intensity joint research in IoT, big data, AI, food technology, and other fields. They should also work together to advance technology and innovation cooperation, and propel national industrialization process and inclusive growth, in a way to bring more benefits to countries and their peoples. Meanwhile, they should also be vigilant of risks and challenges of the fourth industrial revolution, especially unemployment, security and other issues triggered by the widespread application of AI. Developing countries should intensify communication and coordination, join hands to realize self-renewal, and prevent and tackle various ricks.
During the two days, Lu Fuping, Vice President of the University and a professor of Biological Engineering School, and Sun Zhenqing, a professor of Economics and Management School, engaged in academic exchanges with experts and scholars from other BRICS countries and delivered theme speeches. Attendees also included experts and professors from Russian Academy of Sciences, Russia's Moscow School of Management SKOLKOVO, Brazil's Institute for Applied Economic Research(IPEA), India's Observer Research Foundation, Bohai University, Stellenbosch University and Durban University of Technology of South Africa, Assumption University of Thailand, University Tunku Abdul Rahman and Universiti Malaysia Terengganu of Malaysia, Can Tho University of Vietnam, Colombo City Port Company of Sri Lanka, Jiangnan University, China Agricultural University, Hebei Agricultural University, Chinese Academy of Science and Technology for Development, Tianjin Federation of Social Science, and Tianjin Food Group. They exchanged ideas on four themes: "new industrial revolution and the development of BRICS", "scientific and technological innovation, industrial transformation, and enterprise responsibility", "cooperation in scientific and technological innovation: priorities, difficulties, and path selection", and "HR development and reform of higher education". On the sideline of the meeting, think tank members visited the History Museum of the University, which they spoke highly of.
  On September 22, Zhang Aihua, Deputy Secretary of the Party Committee of the University, attended the closing ceremony and delivered a speech. He expressed thanks to all leaders and guests for their presence on behalf of the whole University. He emphasized that colleges and universities are the source of scientific and technological innovation, which is the basic driving force of development. In the opening year of the second "golden 10 years" of BRICS cooperation, the University will use BRICS think tank as a platform to give full play to its strength, be brave in exploration and practice, and contribute more intelligent results to BRICS cooperation.
It is learned that the CCBTC was founded in 2017, and engages in BRICS think tank communication and cooperation on behalf of China. Its research area covers political security, trade and finance, education and culture, medicine and health care, internet technology, and other cooperation fields among BRICS members. Since its inception, the CCBTC has partnered with home colleges and universities, research institutes, and enterprises and public institutions, participated in academic efforts and think tanks under the framework of BRICS cooperation, and responded to the "BRICS+" consensus reached among BRICS leaders. It has engaged in joint research and academic exchange with BRICS think tanks, and been committed to communication and cooperation with the think tanks of other emerging markets and developing countries. What's more, it has participated in and facilitated new-type South-South cooperation, which is its main priority and major task. In the future, the CCBTC will continue to follow the BRICS spirit of "win-win cooperation through openness and inclusiveness", and be open to include new think tanks and scholars at home as members and member units, in a way to further deepen BRICS cooperation and propel new-type South-South cooperation.
As the scope of international scientific and technological cooperation gets expanded, the scientific and technological communication and cooperation between the University and BRICS members (Russia, South Africa, India, and Brazil) has enjoyed sustained development. As such, their bilateral communication has grown into cooperative research, which has created favorable conditions for them to share resources and achieve scientific and technological progress. In recent years, the University has cooperated with research institutes of Russia and South Africa to get two approved international cooperation and exchange programs of the National Natural Science Foundation of China. Especially in 2018, the University took the lead to co-declare a national key research project "China and BRICS Cooperation Special Project"-"Agricultural Biomass Synthetic Biology Processing Enzyme Bank, Enzyme Combination Technology and New Species" together with Durban University of Technology, South Africa. Currently, the project has passed defence and assessment and foreign-related consultations, and entered budgetary assessment. It is predicted that the formal contract of the project will be signed this December, with fund around RMB 3 million. It is another approved project of the University with landmark significance since the reform of the administration of central finance science and technology plan, and will play important leading role in making the scientific and technological cooperation of the University more international, especially in advancing the scientific and technological cooperation between the University and BRICS.