Agreement to Co-build TUST Signed

2018-10-11
At 4:00 P.M. on September 20, the signing ceremony of Tianjin Municipal Education Commission and the People's Government of Binhai New Area for the co-building of TUST was held in the stadium of Binhai Campus. Leaders attending the signing ceremony included: Cao Xiaohong, Deputy Mayor of Tianjin Municipality, Wang Jing, Deputy Secretary General of Tianjin Municipal Government, Jing Hongyang, Director of Tianjin Municipal Education Commission, Yang Maorong, Deputy Secretary of Binhai New Area Committee and District Head, Han Jinyu, Deputy Secretary of the Party Committee and President of TUST, Xia Jingbo and Zhang Aihua, deputy secretaries of the Party Committee of TUST, Lu Fuping and Li Zhanyong, deputy presidents of TUST, and Xing Jun, Secretary of the Committee for Discipline Inspection. Guo Jingping, Deputy District Head of Binhai New Area, presided over the signing ceremony.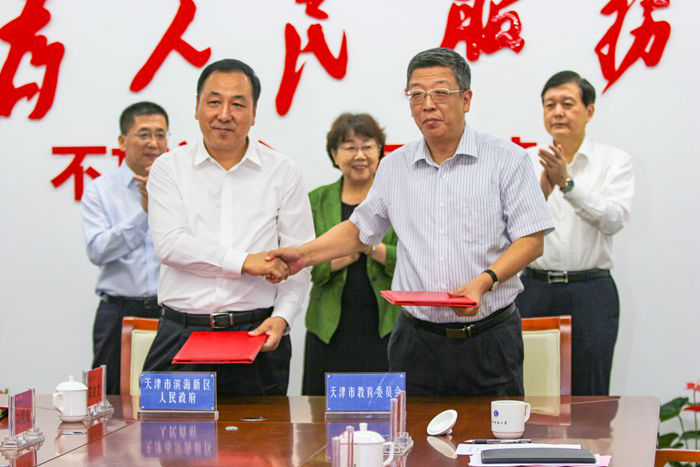 In her speech, Deputy Mayor Cao Xiaohong said that, as a schoolfellow and a former teacher of TUST, she had witnessed the hardships TUST faced when the campus was newly built in Binhai New Area. Therefore, she was happy to see the achievements of her alma mater in teaching, research, infrastructure, and other aspects. She expressed sincere blessing to TUST for the 60th anniversary. She hoped TUST cherish the co-building opportunity, carry forward the spirit of entrepreneurship, forge ahead against all difficulties, and work to achieve new breakthroughs in all fields, build on traditional strengths, and further elevate itself.
In his speech, Jing Hongyang said that, over the past 60 years, thanks to the hard work of generations of faculty, TUST has grown in both size and strength. Since the operation of Binhai New Area Campus, TUST has worked to take roots here, integrate into and serve the New Area, and grown from strength to strength through district-university cooperation. He said that Tianjin Municipal Education Commission will offer strong support in construction, talent training, faculty building, and first-rate disciplines, seeking to enhance the education quality of TUST. He hoped TUST cater to the major needs of Binhai New Area in its development and opening up, enhance innovation capability and reform system and mechanism, and strive to provide more talents for the efforts of building Tianjin into a modern metropolis and for the development and opening up of Binhai New Area.
In his speech, Yang Maorong said that Binhai New Area attaches great importance to the co-building work, and has included TUST into its overall planning of social and economic development. Binhai New Area will earnestly fulfill its responsibilities and duties in the co-building project, invest more in scientific and technological innovation, talent training, and the construction of first-rate disciplines and key labs. It will also work closely with Tianjin Municipal Education Commission to support TUST in building an innovation-oriented talent base for the scientific and technological innovation of the New Area. He hoped TUST leverage on favorable conditions, deepen education and teaching reform in an all-round way to elevate education quality in all aspects, and keep enhancing core competitive edge and social influence, so as to offer more powerful talent guarantee and contribute more to the construction of the New Area.
In his speech, Han Jinyu said that, during the past 16 years, TUST has received great concern and support from district committees and governments. With the integrated development of 10-plus years, Binhai New Area and TUST have benefited each other and realized a win-win scenario, thus forging profound partnership. He said that TUST will cherish the exciting opportunity and make full use of the favorable conditions provided by Tianjin Municipal Education Commission and Binhai New Area. And the university will follow modern education concept, deepen education and teaching reform, make the layout of campus and disciplines in a scientific manner, optimize faculty team, enhance research capability and the ability of serving the society, boost core competitiveness, and improve the quality of graduates and the efficiency of school-running.
In her host address, Deputy District Head Guo Jingping said that the signing ceremony is a happy event for both TUST and Binhai New Area, and will boost further integrated development of the district and the university. She believed that, by signing the co-building agreement, innovation elements of the university will gather to Binhai New Area in a faster pace, which will facilitate the coordinative development of various schools of different levels in Binhai New Area and exert profound influence on the building of an education-powered district.
Others attending the signing ceremony included: leaders of the General Office of the People's Government of Tianjin Municipality, the Office of Tianjin Municipal Education Commission, the Office of the People's Government of Binhai New Area, the Education Commission of Binhai New Area, the Technology and Industrial Innovation Committee of Binhai New Area, Finance Bureau, Planning and Land Resources Administration, and TUST's General Office, Organization Department, Publicity Department, United Front Work Department, Infrastructure Department, Science and Technology Department, and other departments.