AI Forum Conducted at TUST

2021-04-29
The third artificial intelligence forum was held on Binhai Campus of TUST on April 16th. The forum was presided by Yang Jucheng, professor and the Dean of Artificial Intelligence. AI researchers from Nanjing Agricultural University, Hehai University and Tianjin University presented the forum and shared their research with TUST faculty and students. President Lu Fuping presented the forum.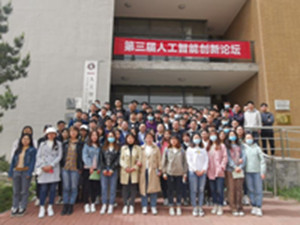 The guest professors delivered three presentations in "Status Quo and Prospect on High-tech War in the Field—IM-based Solar Insecticidal Lamp", "Study on Multi-level Trust Management Mechanism in Underwater Sensors", "Smart IM, from Topology Evolution to Smart Connectivity".
The AI Computing and Bio-Identification International Joint Center of AI School started the first AI forum in 2017. It provides a good platform for academic exchanges and profound understanding on AI-led industries.